We're here at South by Southwest (SXSW) in Austin, Texas, one of the largest festival/conferences for Film, Interactive trends and Music. No public Asteroids machines in town, but there are enough tacos and free beer to make up for it.
The big buzz at the Interactive conference this year is online gaming; companies are moving beyond traditional brand marketing to engage their audiences in new ways. Facebook is the largest gaming platform today, and games like Farmville have ratings that rival prime-time television. Just as important, they're reaching demographics that aren't what you'd stereotype as a typical gamer.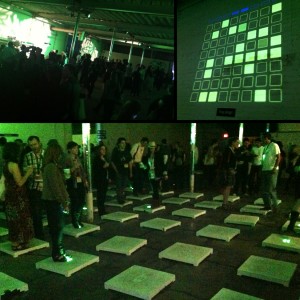 Atari brought in Thom Kozik as executive vice president of online and mobile, with the goal of creating online versions of their classic games. Asteroids Online, still in its beta stage as a Facebook game, is among the first. As a "causal gaming experience," it's tailored to draw you in and keep you coming back. Full write-up here soon.
Along the same lines, another talked-about trend is the rise of social networking applications on mobile devices, driving real-world activity. The founder of FourSquare drew a huge crowd. His app (and many others) allows you to check in to your current location, based on GPS coordinates, and gain points and prizes based on number and type of check-ins. It turns daily life into a game. I actually had my first practical success with FourSquare at Beer Camp at Emo's the other night, when a friend had checked in a few minutes earlier. I recognized his icon, sent him a text, and good times were had.
All of this expands the concept of video gaming. Even traditional game systems are shifting into the real world, starting with the Nintendo Wii's gyroscopic controller and just recently, expanded with the XBox Kinect. Actual movement is translated into virtual motion. These controllers have also immediately been hacked and adopted for more conceptual and artistic ends. One of the cooler installations here in Austin was at the Frog Design party — a room-sized grid of weight-sensitive platforms acts to control the music's step-sequencer. People can see a projection of the matrix, and hear what they're doing in the beats.
I like to watch where things are going, and think about Asteroids, sitting in the corner of an arcade or bar, with five simple buttons driving a series of white lines on a black screen. It was created 32 years ago, before computers saturated our lives. You have to leave your house to play it. It's basic. It's pure. For some of us, it holds up.
Posted on August 07, 2010
Atari was one of the original video game leaders, although the company had all but disappeared during the last few decades. Â It was sold to various companies around the world, eventually ending up in France. Â However, starting around a year ago, we started seeing rumblings of a corporate rebirth. Â Licensing stepped up, with a Universal Studios film deal for Asteroids among the more news-worthy items.
Recently, Atari's website has been growing, offering both classic games for online play, plus the announcement of new initiatives, including the re-imagining of older titles (again, Asteroids). Â Then, with echoes of Steve Jobs's return to a floundering Apple, there came the news that Atari founder Nolan Bushnell was back on the board of directors.
The LA Times has just published a fairly comprehensive article detailing the past and future plans for the company. Â Read it here:
http://www.latimes.com/business/la-fi-ct-atari-20100803,0,3552511.story?track=rss