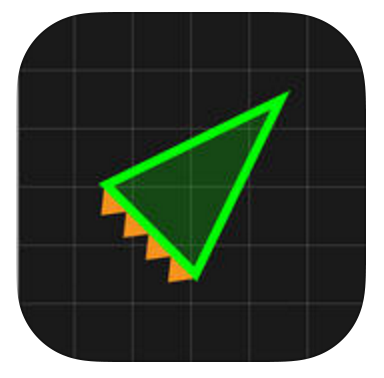 We're all about one game here at AtariAsteroids.net, and one game only.
The sequels and clones all stray from perfection, because with Asteroids, the more you add, the more you lose. It's not about being flashy and destroying asteroids… it's about something that's supremely simple in design, yet complex in performance.
Michael Lazer-Walker's Thrust Vector for iOS actually isn't an Asteroids clone, aside from the fact that you're a triangle navigating asteroids, and it has the words "thrust" and "vector" in the title. But it gets our hearty approval because it only has one button (which beats Asteroids by four), is super simple to understand, but is surprisingly hard to master.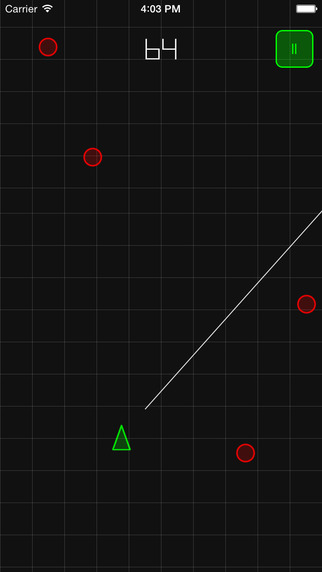 It's an infinite runner game, so you're constantly scrolling forward, with asteroids in your path. A line sweeps back and forth from the ship, and touching the screen thrusts you forward along that vector. You try not to crash into the asteroids.
And like Atari Asteroids, you don't play to win… you play to survive.
What's more, it turns out that Lazer-Walker has some other excellent creations, including another one-button game where you're a telegraph operator (makes me think of the classic leaf-switch button on an Asteroids machine), and Hello, Operator!, which uses a vintage telephone switchboard. This doesn't really have much to do with Asteroids, but it's cool.
Check out Thrust Vector at the Apple App Store, and Michael Lazer-Walker's website.
Posted on January 14, 2016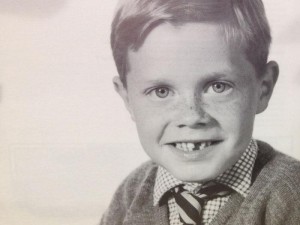 It turns out that Eddie Izzard's all-time favourite computer game is Asteroids.
He recently told The Guardian, "I was king of Asteroids back in the day. I'd play one game for an hour-and-half and get scores of over a million."
He described his experience to Chris Hardwick (also an Asteroids fan) on The Nerdist podcast in 2014:
"It was so odd, because I was… at first year at university, and the people– I would go to the next door halls of residence, where I wasn't known at all. Not that I was very well known in my hall of residence. And I would get on the machine, and people would talk about me as if I wasn't there, 'cause they thought I was part of the machine. Like I'd become part of the machine. They'd kind of go, 'God, it's really weird. Yeah, that's all he does… Look at the number of space ships.' And they were sitting right next to me doing that, and I just thought, this is weird." (Nerdist podcast #513 at 1:09:22).
But wait, there's more! The comedian, marathon runner, and future mayor of London, also has a real asteroid named after him: 2002 RY237 is now officially 196000 Izzard. Visit JPL's database for details.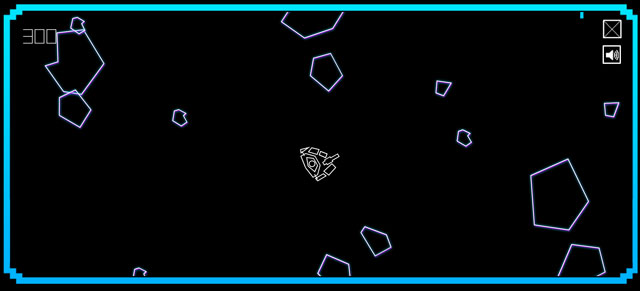 Along with the release of Respawn Entertainment and Electronic Arts's first-person shooter game Titanfall in April, the Titanfall Arcade put their giant fighting battle robot vehicles into three classic Atari games: Asteroids, Centipede, and Missile Command. These Titans are better armed than our trusty triangle spaceship, so the result is pretty funny.
It seems that the online arcade was a short-lived promotion, but it lives on in YouTube screen captures.
Please help AtariAsteroids.net with arcade recon!
We've only reviewed a handful of locations where you can play Asteroids, so if you've got first-hand information about arcades, barcades, nighclubcades, museums, arcade speakeasies, amusement parks, or anywhere with a public Asteroids or Asteroids Deluxe arcade machine, please let us know!
Check out other reviews in the Arcade Recon category of this site. We're looking for general information about the venue and its atmosphere, a specific review of the Asteroids machine, and pictures.
Take a look at our Asteroids Location Map to find an Asteroids location near you. And if you have any corrections to the map, please let us know.
Email tim@atariasteroids.net
Thanks!
Posted on September 14, 2012
The folks at Rocket Jump made this. Spoiler: Asteroids kick ass.