Posted on January 15, 2013
At the first Atari International Asteroids Tournament in 1981, Atari gave players a collectible tee-shirt and 3D lenticular button. Very rare! Thanks to John, an Atari employee back in the day, for sending in these pictures.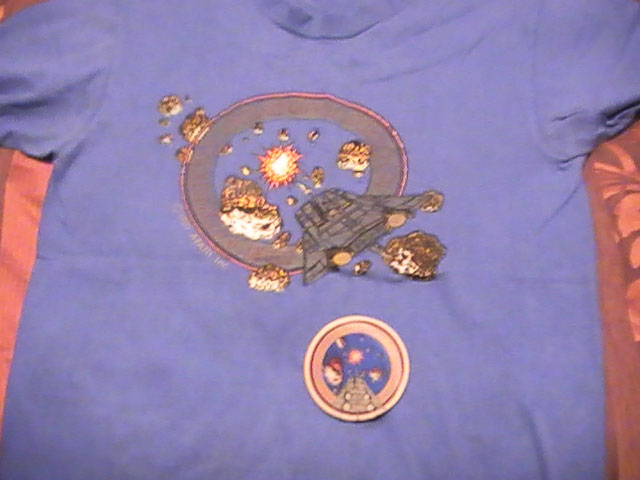 Posted on February 07, 2012
On Thursday, (Feb 9) the Academy of Interactive Arts & Sciences (AIAS) will present its 2012 AIAS Pioneer Award to Ed Logg, the man who created Asteroids as we know it.
Some history: In February of 1962, several programmers at MIT created Spacewar!. At the time, it was only available to those few with access to a massive computer, like university students. But nine years later, Nolan Bushnell brought the game's idea into the arcade with Computer Space, developed at Nutting Associates. He and Ted Dabney took their proceeds from the game and founded Atari, which took off with Pong (1972).
Ed Logg had also played Spacewar! while studying at Stanford's AI Lab, and followed his interest to Atari's arcade division by the late 1970′s. His first completed assignment there was Super Breakout in 1978.
He ended up in a brainstorming session with Atari executive Lyle Rains. A follow-up to Computer Space had been shelved long before, due to rights and other issues, but Rains now wanted to resume work on a new spaceship shooting game. This time, instead of shooting another spaceship with an asteroid as incidental debris, the asteroid would be the focus.
Logg suggested using a high-resolution vector display instead of the standard televisions used in other games, which would allow for increased speed and precision. He also introduced greater complexity than Asteroids' predecessors. "Computer Space has a pattern," Logg explains. "You just go through it and you keep running through it." [1]
Pong had variety in its play, but simplicity in its controls. Computer Space had more complicated controls, but simple play. Logg thought it would be fun to put the two together.
Logg says, "I play a lot of the games in my mind long before I ever write them because you have to get all the interactions down pat before you can start programming." [2]
Mark Cerny, Atari colleague, friend, and presenter of Thursday's award, recalls, "What I learned from Ed was that creating the fun of a game did not require complex algorithms as much as it required the right approach… it was putting all the proper features in the game in the correct order. Of course, you needed an amazing intuition as to which were the 'proper' features, that was the difficulty in replicating Ed's strategy!"
During Asteroids' development, other Atari employees would wait for Logg to go home, to get a chance to play. Asteroids was released in 1979, and has gone down as one of the most successful video games of all time. Logg clearly got it right, because the original is no less challenging, fun, or elegant over 30 years later.
Logg will be the third recipient of the AIAS Pioneer award. The Academy says, "As an innovator, game designer and programmer, Ed's work contributed to the creation of some of the most iconic entertainment properties – including Asteroids, Centipede, and Gauntlet – arcade games that continue to shape the way that modern games are designed today."
The awards will take place during the DICE conference in Las Vegas, and will be streamed live on GameSpot.com beginning at 7 PM PST. They will show a short video segment with interviews on his career.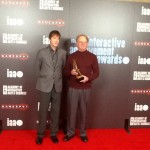 [UPDATE]
Watch Gamespot's video of Mark Cerny presenting Ed Logg with the award.  It begins at 36:35.
LINKS!
AIAS website: http://www.interactive.org/
AIAS twitter feed: @AcademyIAS
[1] Excellent Wired.com article on Ed Logg
[2] AIAS press release about the award
Excellent article on Computer Space at Technologizer.com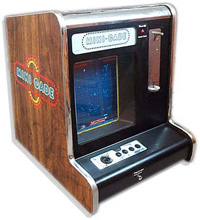 There's been a flurry of geekblog talk about the iCade cabinet for the iPad, which will turn your Apple device into a bluetooth-controlled mini arcade. But almost 30 years ago, a group of folks near Boston built the Mini-Cade to house a Vectrex.
Only seven exist.  The Vectrex Museum has the full story here.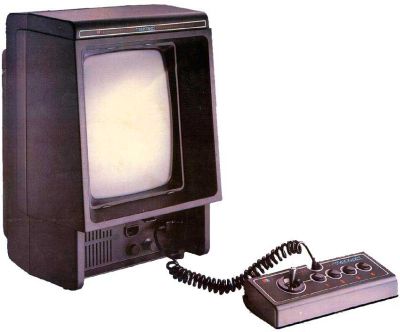 Much of arcade Asteroids's allure is the glowing, minimalist vector screen. Instead of a standard TV monitor, which scans from top to bottom over and over again, the vector display draws straight lines from one point to the next where needed, like an oscilloscope. It can only be a simple polygon outline of one color, but it also means that the image is sharp and bright (Asteroids's photon torpedoes leave a brilliant trace along the slowly-decaying phosphor of the screen), and simple to program (the video and sound data in the arcade version of Asteroids is just 2 KB of ROM code, and the game program is another 6 KB). It's why we have the Asteroids locator on this site: to this day, no home version or variation of Asteroids really does the same thing.
Except one.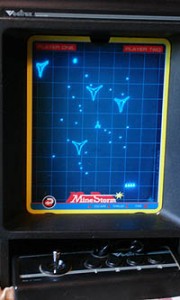 Enter the Vectrex. In 1982, Western Technologies/Smith Engineering developed a home video game device with an actual vector display — the only one of its kind, ever. The Vectrex was released by General Consumer Electric (GCE), then bought by Milton Bradley, at the end of 1982. Its big selling point was that unlike the Atari 2600, it was a stand-alone system that didn't tie up the television. Timing was bad, though with a glut of home video game systems hitting the market at the same time, leading to the North American Video Game Crash of 1983. One year after it hit the shelves, production for the Vectrex was discontinued, and in another year, the commercial life of the Vectrex was over.
The Vectrex came with one game built in: Mine Storm, which is like Asteroids, but with mines. The official story is this:
Tread lightly! The transport lanes of intergalactic space have been seeded with mines from an alien vessel. Use your mine destroying blaster to blow up the mines before they annihilate you! You may survive the floating mines, but beware of the fireball, magnetic, and treacherous fireball- magnetic mines… 13 fields, each one more difficult, await you!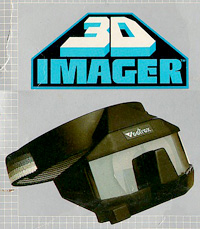 A few years ago, Indie 3D filmmaker and DIY stereoscopic expert Eric Kurland invited me to his Secret Underground Lair in Echo Park, LA, which is filled with all sorts of 3D goodies, including a pristene Vectrex. Yes, not only does the Vectrex have a true vector screen — several of the games are in 3D! Its giant (optional) headset operates much like a lot of home 3D glasses today, alternately blocking the left and right eyes very rapidly, in sync with the display showing the left then right image. Among these games is a 3D version of Mine Storm.
It was pretty cool.
The game action wasn't actually in 3D, but some of the mines looked closer to you than other ones.

Being such a unique and awesome device, the Vectrex has a following to this day. The Vectrex Museum website is a great resource for all things Vectrex, and is a site after our own heart. Be sure to check out their intro video, which includes an introduction from the excellent video How to Beat Home Video Games (1982), as well as clips of modern users like chiptune musician little-scale.
AtariAsteroids.net will be posting more about Vectrex down the road, in our continuing coverage of Things That Are Awesome Like Asteroids. Stay tuned.

At South by Southwest this past March, six videogame journalists met to come up with a definitive list of games that represent gaming now — the "Criterion Collection" of gaming.  They ask: "What videogames are canon? Are games old enough to have an essential group of titles worthy of the Library of Congress?"  Despite Asteroids's historic popularity, we weren't sure if it would make that list; so we stopped by to find out what would.
The panelists were Chuck Osborn (Group Editor in Chief, Future US), Eric Bratcher (Editor in Chief, Future US), Evan Lahti (Senior Editor, Future US), Ryan McCaffrey (Senior Editor, Official XBox Magazine), Brett Elston (Executive Editor, GamesRadar.com), and Scott Butterworth (Assistant Editor, PlayStation the Official Magazine).
Each panelist made a 30-second pitch for their "best game," followed by some discussion, audience input, and then a vote.  One big guideline for selection was: Rule out nostalgia.  "If you're introducing someone to gaming, you might love Street Fighter 2, but would you suggest playing that one over Street Fighter 4?"  On the other hand, to what degree should a game's influence and historical significance be considered, even if elements seem dated?  This became a key point immediately.
Scott Butterworth started out by nominating the original God of War, for its influence of the interaction wtih 2-button combos, plus the blockbuster value.  Others asked, why pick that over God of War 3, which is the culmination of the ideas in the series, with better production value etc.  Which would you tell someone to play right now?  It was voted down.
Next, Brett Elston picked Super Mario Brothers 3, as the baseline for video games. Mechanics are tighter than 1, and the idea of different worlds comes from this. Plus, this list would be incomplete without a Mario game.  Accpted.
The discussion went on, with yeas and nays (Splinter Cell, Chaos 3: no; StarCraft II: yes; World of Warcraft: yes), and things were looking grim for Asteroids.  Then, Eric Bratcher, who had really been pressing for relevance today in the selections, nominated Tetris (1984).  You can understand it in 30 seconds, but can't master it in 30 years.  It has been on more platforms and played by more people than any other game.  Tetris recevied a unanimous yea.  Asteroids it is not, but it's in the same family of simple geometry, simple gameplay, and a race to survive.  We'll take it.
Here's the final list, in the order they were nominated:
- Super Mario Bros 3
- StarCraft II
- World of Warcraft
- Orange Box (Half-Life 2, Half-Life 2: Episode One, Half-Life 2: Episode Two, Portal, Team Fortress 2)
- Red Dead Redemption
- Street Fighter IV ("what a sequel ought to be")
- Minecraft
- Tetris
- BioShock
- Link to the Past
David M. Ewalt at Forbes just dug this image out of the archive: Promotional photo of modular game stations at the first Atari International Asteroids Tournament, at the Chicago Expocenter on Halloween weekend,1981.
Posted on August 30, 2010
Here's a look at an Asteroids cousin in the arcade: Sega/Gremlin's Eliminator, released in 1981. The 4-person cocktail game has the distinction of being the only 4-player vector game ever created. It was also released as a 2-player upright and cocktail game.
A summary on M.A.R.S. (Mark's Arcade Retro Site) says:
In Eliminator, your object is to 1) Destroy any threats (opposing players or drones) by forcing them into a large floating asteroid (known as the Eliminator Base) using your energy bolts, which "push" ships, and 2) Fire an energy bolt down a narrow opening in the Eliminator Base, thus destroying it. Of course, you will have to survive an onslaught by your opponents, drones, and the Eliminator itself (a deadly ship that comes out of the Eliminator Base, lauches fireballs and destroys opponents on contact).
For more information, visit Andy's Arcade and Wikipedia. Or Google it.
Posted on February 03, 2009
The following story was taken directly from the Atari 2600 Asteroids manual.
On a quiet serene evening the Cosmic Space Patrol sets out for the usual night cruise through the boulevards of space. This beat was always the same; calm, no action and no excitement. For some reason this night feels different. Shortly before 0200 hours some form of intergalactic material is sighted through the visual particle counter. The material is too large a mass to measure. It's drifting closer. Lookout, it's a giant asteroid boulder and it's headed straight for the Cosmic Spacecraft. The only chance for survival is to dodge the boulder or destroy it. Destroying it doesn't mean just breaking it up, it means vaporizing it. Small asteroid boulders are equally as fatal as large ones.

The Cosmic Space Patrol is highly trained to handle this situation. Could you do as good a job as the Cosmic Space Patrol? How would you protect yourself if you were caught in a deadly asteroid belt? This is your big chance to fly throughout the dimensions of space and fend against asteroid boulders. The longer you survive, the more space hazards you'll encounter.

Whew, the boulder just missed colliding with the Cosmic Spacecraft, but suddenly the Cosmic Space Patrol find themselves surrounded by thousands of the deadly asteroids. The Cosmic Space Patrol must act quickly to save their spacecraft and spare their lives. The spacecraft is equipped with photon torpedoes, hyperspace, shields, and flip control.