Asteroids Online Announced
Posted on August 8, 2010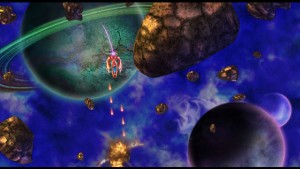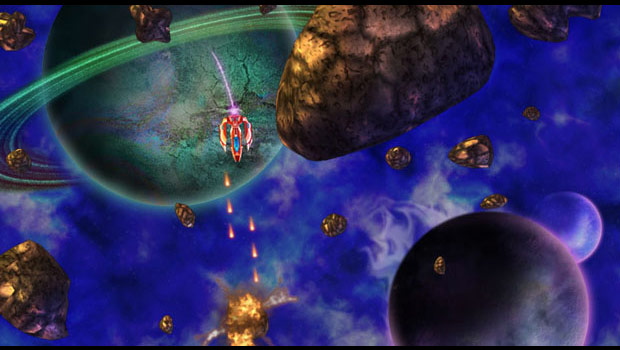 Over at atari.com, Asteroids Online (working title) was announced today, with a big COMING SOON button and a few screen shots. As indicated by the name, it's an online game based loosely on the original premise.
Asteroids Online is set in the distant future, where:
…Space is littered with the debris of a thousand years of human neglect, and coupled with the recent appearance of unexplained asteroid fields, many trading and transportation companies have resorted to hiring pilots to clean their routes of these impurities. This, as you may have guessed, is where you come in.
While the experience will be quite different from the sparse vector display and five buttons of the beloved arcade version, Atari says that this "re-imagining of its 1979 iconic classic… adds an expansive universe, flexible customization and social interaction while faithfully preserving the remarkably balanced mechanics that characterized the original arcade cabinet."
Gaming has shifted out of the arcade and onto TVs, then computers and phones. Â The online version is designed for casual and interactive play through social networks like Facebook and play.atari.com, and looks to be built on the concept of a longer-term game. Players will explore different worlds, complete various missions, and be able to customize their ships "with different hulls, shields, weapons and more." Â The addition of long-form narrative and episodic game play is a smart approach to keeping people coming back.
This is part of the company's plan to revitalize some if its legacy titles. An article in today's LA Times writes:
Northern California's Cryptic Studios, which Atari bought in 2008, operates multiplayer online games such as the recently released Star Trek Online and Champions Online, both of which have very small user bases compared with the market-dominating World of Warcraft.

But to drive much of its growth, the company hired a veteran Microsoft and Yahoo executive to head its online activities. Thom Kozik, executive vice president of online and mobile, has contracted with outside producers to make 15 to 20 updated versions of Atari games for the Web.

Though some of its games will be pay-to-download, Atari is embracing the increasingly popular free-to-play business model used by companies such as Playdom, which was recently acquired by Walt Disney Co. in a deal worth up to $763 million. Most players of so-called F2P games spend nothing, while a small but avid group pay for virtual items that enhance the experience.

"Over the next six months you're going to see some of our best brands coming out as casual online games and digital downloads across multiple platforms, and you'll see a handful of retail releases," Wilson said.
(Read the entire LA Times article here.)
Sample frames from Atari's site indicate that the visual style is rendered in bright colors with oversized bubbly graphics. The company wants to move into the present and not just ride the rails of retro, and while this is bringing a beloved game into a contemporary venue, we hope that it stand out from the others in ways beyond the brand name (ie. design). We'll wait to play the game before commenting further, but so long as things don't become too busy, there's potential for something fresh from the company that's looking to live up to its past, while engaging players in the present.
Atari Online's page can be visited at:
http://www.atari.com/play/game/asteroids_online
And for those who might simply want to combat white lines until invariably reaching a vectory death, Atari has already made the original program available for online play.
http://www.atari.com/play/game/asteroids
Tags: Atari, Atari Asteroids, Online, social network
Categories: News
---
Leave a Reply