At South by Southwest this past March, six videogame journalists met to come up with a definitive list of games that represent gaming now — the "Criterion Collection" of gaming. Â They ask: "What videogames are canon? Are games old enough to have an essential group of titles worthy of the Library of Congress?" Â Despite Asteroids's historic popularity, we weren't sure if it would make that list; so we stopped by to find out what would.
The panelists were Chuck Osborn (Group Editor in Chief, Future US), Eric Bratcher (Editor in Chief, Future US), Evan Lahti (Senior Editor, Future US), Ryan McCaffrey (Senior Editor, Official XBox Magazine), Brett Elston (Executive Editor, GamesRadar.com), and Scott Butterworth (Assistant Editor, PlayStation the Official Magazine).
Each panelist made a 30-second pitch for their "best game," followed by some discussion, audience input, and then a vote. Â One big guideline for selection was: Rule out nostalgia. Â "If you're introducing someone to gaming, you might love Street Fighter 2, but would you suggest playing that one over Street Fighter 4?" Â On the other hand, to what degree should a game's influence and historical significance be considered, even if elements seem dated? Â This became a key point immediately.
Scott Butterworth started out by nominating the original God of War, for its influence of the interaction wtih 2-button combos, plus the blockbuster value. Â Others asked, why pick that over God of War 3, which is the culmination of the ideas in the series, with better production value etc. Â Which would you tell someone to play right now? Â It was voted down.
Next, Brett Elston picked Super Mario Brothers 3, as the baseline for video games. Mechanics are tighter than 1, and the idea of different worlds comes from this. Plus, this list would be incomplete without a Mario game. Â Accpted.
The discussion went on, with yeas and nays (Splinter Cell, Chaos 3: no; StarCraft II: yes; World of Warcraft: yes), and things were looking grim for Asteroids. Â Then, Eric Bratcher, who had really been pressing for relevance today in the selections, nominated Tetris (1984). Â You can understand it in 30 seconds, but can't master it in 30 years. Â It has been on more platforms and played by more people than any other game. Â Tetris recevied a unanimous yea. Â Asteroids it is not, but it's in the same family of simple geometry, simple gameplay, and a race to survive. Â We'll take it.
Here's the final list, in the order they were nominated:
– Super Mario Bros 3
– StarCraft II
– World of Warcraft
– Orange Box (Half-Life 2, Half-Life 2: Episode One, Half-Life 2: Episode Two, Portal, Team Fortress 2)
– Red Dead Redemption
– Street Fighter IV ("what a sequel ought to be")
– Minecraft
– Tetris
– BioShock
– Link to the Past
We're here at South by Southwest (SXSW) in Austin, Texas, one of the largest festival/conferences for Film, Interactive trends and Music. No public Asteroids machines in town, but there are enough tacos and free beer to make up for it.
The big buzz at the Interactive conference this year is online gaming; companies are moving beyond traditional brand marketing to engage their audiences in new ways. Facebook is the largest gaming platform today, and games like Farmville have ratings that rival prime-time television. Just as important, they're reaching demographics that aren't what you'd stereotype as a typical gamer.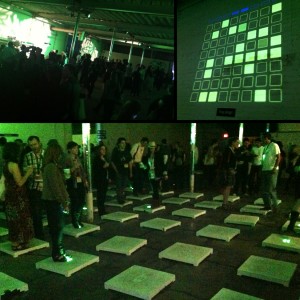 Atari brought in Thom Kozik as executive vice president of online and mobile, with the goal of creating online versions of their classic games. Asteroids Online, still in its beta stage as a Facebook game, is among the first. As a "causal gaming experience," it's tailored to draw you in and keep you coming back. Full write-up here soon.
Along the same lines, another talked-about trend is the rise of social networking applications on mobile devices, driving real-world activity. The founder of FourSquare drew a huge crowd. His app (and many others) allows you to check in to your current location, based on GPS coordinates, and gain points and prizes based on number and type of check-ins. It turns daily life into a game. I actually had my first practical success with FourSquare at Beer Camp at Emo's the other night, when a friend had checked in a few minutes earlier. I recognized his icon, sent him a text, and good times were had.
All of this expands the concept of video gaming. Even traditional game systems are shifting into the real world, starting with the Nintendo Wii's gyroscopic controller and just recently, expanded with the XBox Kinect. Actual movement is translated into virtual motion. These controllers have also immediately been hacked and adopted for more conceptual and artistic ends. One of the cooler installations here in Austin was at the Frog Design party — a room-sized grid of weight-sensitive platforms acts to control the music's step-sequencer. People can see a projection of the matrix, and hear what they're doing in the beats.
I like to watch where things are going, and think about Asteroids, sitting in the corner of an arcade or bar, with five simple buttons driving a series of white lines on a black screen. It was created 32 years ago, before computers saturated our lives. You have to leave your house to play it. It's basic. It's pure. For some of us, it holds up.