Posted on September 05, 2012
It's been just over a year since NASA's Dawn spacecraft went into orbit around the giant asteroid Vesta, and today it leaves Vesta for the dwarf planet Ceres. The spacecraft took extensive photos to learn all about the asteroid, but didn't blow it up. What gives, NASA?
Here's an official "Farewell, Vesta" video: a fly-over compiled from images taken throughout the year. We asked JPL, and they said they'll probably release the 3D data to the public once it's all organized — which could be cool for 3D artists or designers. (Remember, kids, all NASA media is public domain). For more info about the mission, visit the official Dawn site.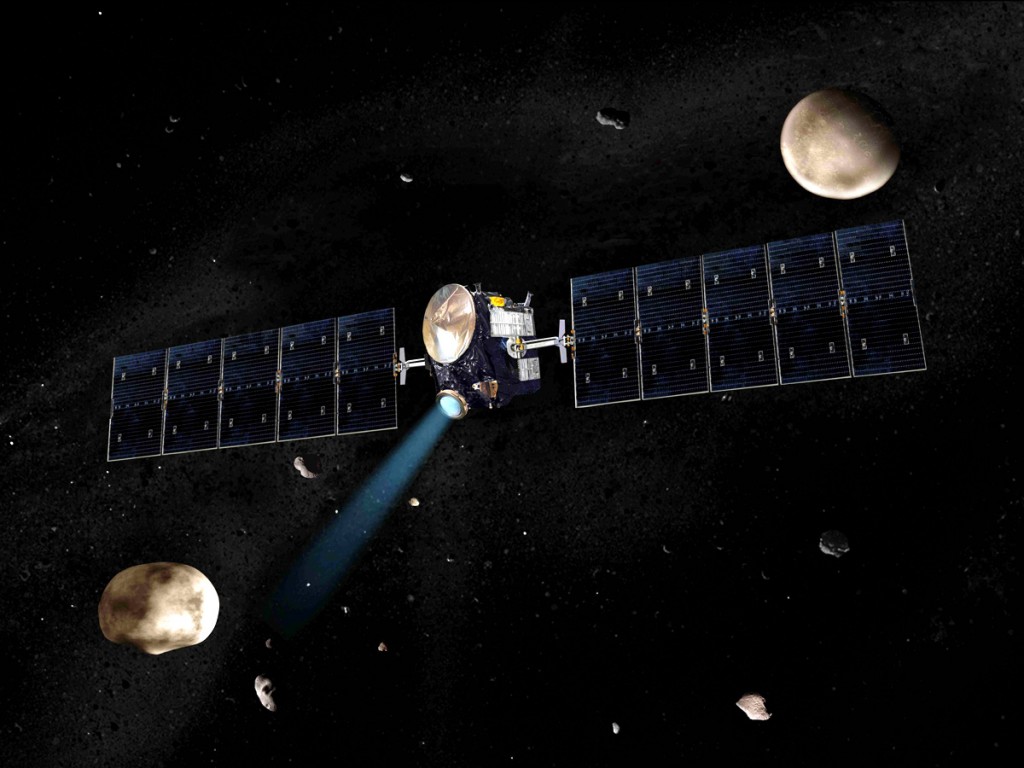 Almost four years ago, NASA launched the robotic spaceship Dawn toward the asteroid belt. In the early hours of Saturday morning (July 16, 2011), it reached its first destination: the GIANT ASTEROID / protoplanet, Vesta.
Dawn will use its photon canon to blast Vesta into small pieces, and then smaller pieces, until it is completely vaporized.
Kidding.
Dawn will actually spend one year in orbit, checking out the asteroid with a visible camera (taking 3D pictures), a visible and infrared mapping spectrometer, and a gamma ray and neutron spectrometer. Then it heads off to the icy dwarf planet Ceres, where it will hang out doing the same thing from February to July, 2015.
The robotic spaceship uses an ion thruster propulsion system burning Xenon fuel, like the one NASA used on the Deep Space 1 mission. We are not making these words up, people! Read that sentence again. This is the future!
Vesta was the 4th asteroid ever discovered, back in 1807. It's 330 miles across, the size of Arizona, and chunks of it have broken off (presumably as the result of photon canon blasts) and actually reached Earth as meteors. The mission's goal is to learn more about how the solar system formed, and already, the images sent back a few days ago are looking pretty sharp. Â We'll check in throughout the year to see how things are going.
For more information and pictures, visit NASA's website: the Dawn mission page ("Journey to the Asteroid Belt") and the NASA Jet Propulsion Lab's Dawn website.