Posted on November 03, 2011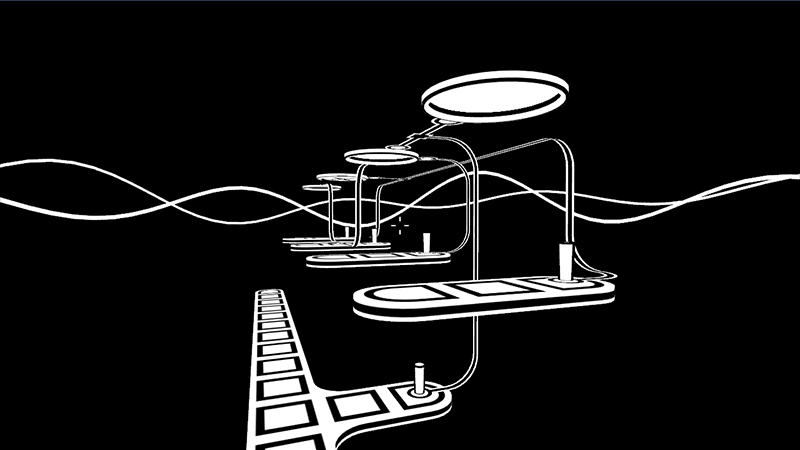 Zi Ye and Jesse Burstyn at Toasty Games (well, actually they are Toasty Games) are developing Parallax, a new game with a sharp black and white design.  From their website:
Parallax is an interdimensional platforming and puzzle-solving game. The goal in each level is to reach the exit by travelling between two overlapping dimensions through rifts. Parallax challenges the player to think beyond the spatial boundaries of traditional platformers.
What caught our eye is the minimal, black and white design.  Parallax's creators told ars technica that they tried out more realistic shaders and colors before settling on this scheme.  "It's a striking, bold look, and fits the game's play brilliantly."  And speaking to DIYgamer, "We think this gives Parallax a rare level of visual cohesion."
We here at AtariAsteroids.net don't pay much attention to new (post-1979) games outside the Asteroids family, and even then, we mostly admire the elegant minimalism of the original.  But we tip our hat to Parallax.  It's not being retro, visually busy, or cute.  It's a product of 21st century computing.  But it boils the visuals down to simple lines, and in doing so, manages to create a rich, three-dimensional world with a timeless feel.  We look forward to playing it!
Ye and Burstyn have just submitted a beta demo of Parallax to the 2012 Independent Game Festival (IGF).  Follow Parallax Game on facebook, Toasty Games on twitter, and visit their website.  Watch the IGF trailer below.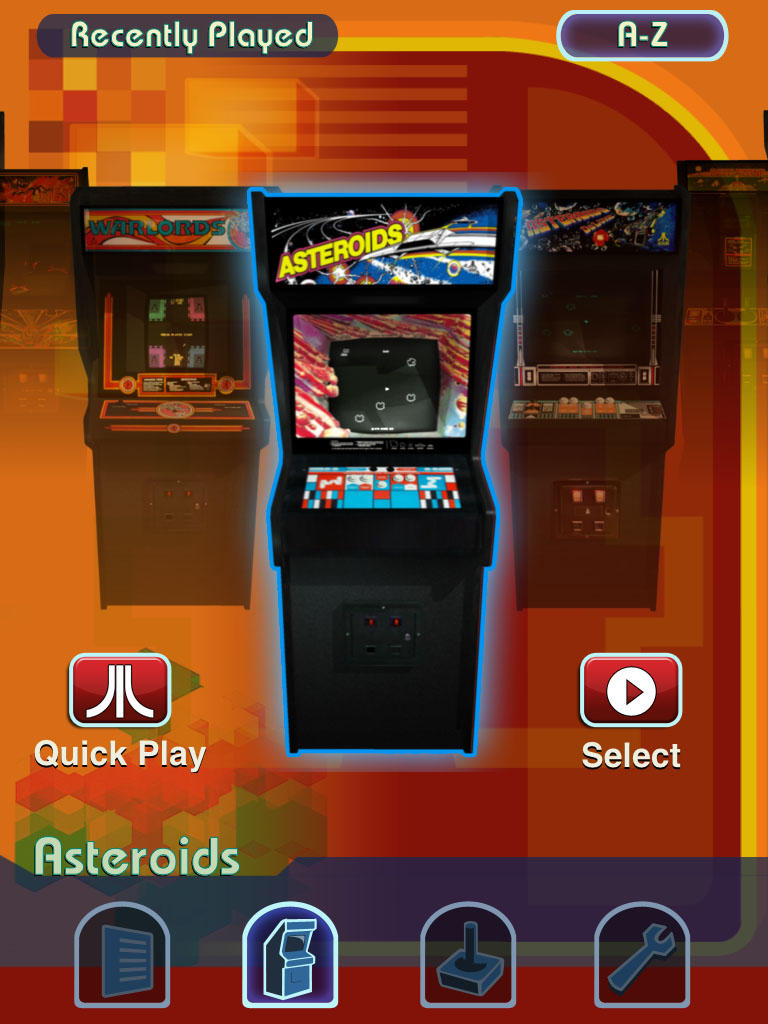 Atari has just released Atari's Greatest Hits for Apple mobile devices, with 100 classic Atari games: 18 arcade and 92 Atari 2600. The basic app is free and includes Pong. Games can be purchased in packs of 3-4 for $0.99, (there are 25 total), or you can get all of them for $14.99. A few truly great hits are missing (Pac-Man, Space Invaders, although these aren't actually Atari games), but there are more than enough good ones that aren't as readily available elsewhere.
The "Asteroids Pack" includes Asteroids, Asteroids Deluxe, Asteroids 2600, and Canyon Bomber (Bluetooth Multiplayer). In the iPad app, the arcade version offers three control options: Disc, Roller and Arcade, with the controls in the border around the video window.
In Disc mode, the device is held horizontally, with a left-thumb 360-degree disc area for direction and thrust, and right-thumb buttons for fire and hyperspace. Rotation is very responsive, but perhaps too responsive, and difficult to fine-tune without more practice.
Roller mode has a left-thumb vertical roller for rotation (up-down equals rotate left-right), and the right-thumb controls thrust, fire and hyperspace.
Arcade mode turns the iPad upright, with five buttons along the bottom in the standard arcade layout. It's good, although when playing with thumbs, we prefer the roller.
Supposedly this app has been developed along with ION, who will be releasing their bluetooth-connected iCADE iPad arcade cabinet in June. Currently, the Atari app can connect with other devices via bluetooth to play certain games head-to-head. With the iCADE, you place your iPad in the cabinet-looking holder and use the physical controls from there.
It goes without saying that the graphics can't be compared to a vector screen, but they're true to the original code with slight modifications. Specifically, when Asteroids is played on an LCD or CRT screen, the photon dot is almost too small to be seen. It glows brilliantly on a vector display, and the trace takes several seconds to disappear completely. But without creating some artificial effect, they've just increased the size of the dot so that it's visible, along with the thickness of several lines. This is also the case with the online classic version at the Atari website, but missing with other authentic versions of the game, including the computer-based MAME.  Game play feels about right, although just a hair faster than at the arcade.
Speaking of other modern versions, Asteroids HD ($0.99) is an authentic replication of the game for iPad, with full-screen graphics and invisible control: slide your left thumb back and forth on the left side of the screen for rotation, tap on the right side of the screen to fire, and tap with two fingers to hyperspace.  Works well.  And while we haven't tried the iPhone version of the new Atari app — and it may be great — the screen is almost certainly too small for the detail of the original.  A favored variation that retains the feeling of line-art simplicity but adapts it to the small screen, is Spheroids [we couldn't find a browser link for this game -- this will link to iTunes].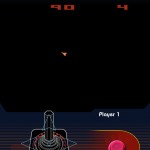 Back in the new Atari app, Asteroids Deluxe, is similarly authentic, with the faint background image found in the arcade.  The Atari 2600 version of Asteroids has the standard game console options on load, and decent play with a virtual joystick and fire button.  The graphics flicker like it would on a TV.
The games also include a gallery of original package artwork and images, and all-in-all, it's a dollar well spent.