Asteroids' Ed Logg Honored With 2012 Pioneer Award
Posted on February 2, 2012
On Thursday, (Feb 9) the Academy of Interactive Arts & Sciences (AIAS) will present its 2012Â AIAS Pioneer Award to Ed Logg, the man who created Asteroids as we know it.
Some history: In February of 1962, several programmers at MIT created Spacewar!. At the time, it was only available to those few with access to a massive computer, like university students. But nine years later, Nolan Bushnell brought the game's idea into the arcade with Computer Space, developed at Nutting Associates. He and Ted Dabney took their proceeds from the game and founded Atari, which took off with Pong (1972).
Ed Logg had also played Spacewar! while studying at Stanford's AI Lab, and followed his interest to Atari's arcade division by the late 1970's. His first completed assignment there was Super Breakout in 1978.
He ended up in a brainstorming session with Atari executive Lyle Rains. A follow-up to Computer Space had been shelved long before, due to rights and other issues, but Rains now wanted to resume work on a new spaceship shooting game. This time, instead of shooting another spaceship with an asteroid as incidental debris, the asteroid would be the focus.
Logg suggested using a high-resolution vector display instead of the standard televisions used in other games, which would allow for increased speed and precision. He also introduced greater complexity than Asteroids' predecessors. "Computer Space has a pattern," Logg explains. "You just go through it and you keep running through it." [1]
Pong had variety in its play, but simplicity in its controls. Computer Space had more complicated controls, but simple play. Logg thought it would be fun to put the two together.
Logg says, "I play a lot of the games in my mind long before I ever write them because you have to get all the interactions down pat before you can start programming." [2]
Mark Cerny, Atari colleague, friend, and presenter of Thursday's award, recalls, "What I learned from Ed was that creating the fun of a game did not require complex algorithms as much as it required the right approach… it was putting all the proper features in the game in the correct order. Of course, you needed an amazing intuition as to which were the 'proper' features, that was the difficulty in replicating Ed's strategy!"
During Asteroids' development, other Atari employees would wait for Logg to go home, to get a chance to play. Asteroids was released in 1979, and has gone down as one of the most successful video games of all time. Logg clearly got it right, because the original is no less challenging, fun, or elegant over 30 years later.
Logg will be the third recipient of the AIAS Pioneer award. The Academy says, "As an innovator, game designer and programmer, Ed's work contributed to the creation of some of the most iconic entertainment properties – including Asteroids, Centipede, and Gauntlet – arcade games that continue to shape the way that modern games are designed today."
The awards will take place during the DICE conference in Las Vegas, and will be streamed live on GameSpot.com beginning at 7 PM PST. They will show a short video segment with interviews on his career.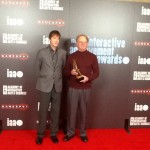 [UPDATE]
Watch Gamespot's video of Mark Cerny presenting Ed Logg with the award.  It begins at 36:35.
LINKS!
AIAS website: http://www.interactive.org/
AIAS twitter feed: @AcademyIAS
[1] Excellent Wired.com article on Ed Logg
[2] AIAS press release about the award
Excellent article on Computer Space at Technologizer.com
Tags: Academy of Interactive Arts & Sciences, AIAS, asteroids, Atari, Atari Asteroids, DICE, Ed Logg, Pioneer Award
---
Leave a Reply