Makers, behold: the Asteroid Belt.
An Australian known as cunning_fellow has made an LCD belt buckle that plays "Rock Blaster" (wink, wink). The whole project is extremely well-documented on instructables.com.
In the FAQs, he writes:
Q: It costs more to build than a RasPi and only runs at 16Mhz. Why did you bother?
A: If you don't understand already there is little I can do to help you.
Read all about it at http://www.instructables.com/id/The-Asteroid-Belt/
Thanks to our friends at Adafruit for tipping us off.
See more Asteroids fashion in the archives.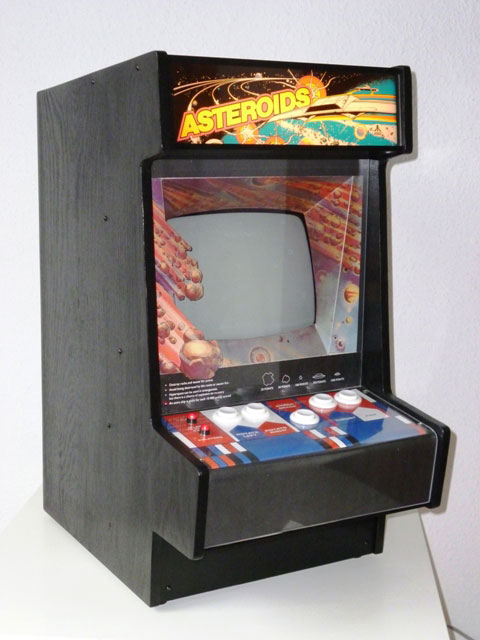 Here's the goal: having an Asteroids arcade machine at home, with authentic electronics and true vector display, but which isn't the size of a refrigerator. Jürgen Müller in Hamburg, Germany, has built just that.
His half-scale Asteroids cabinet uses an original Asteroids game PCB and 9″ vector monitor from a broken Vectrex, housed in a custom-built cabinet. He also built a custom XY driver circuit to bring the Vectrex display up to the drawing speed required by Asteroids.
The project is well-documented on Müller's website: http://www.e-basteln.de/asteroids/asteroids_intro.html