Atari in the WSJ, Plus: New Atari Controller?
Posted on June 6, 2011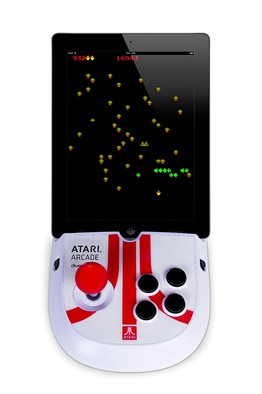 The Wall Street Journal today posted an article about Atari: "Atari Takes A Trip Back To The Future." It talks about the company's current strategy of developing some new PC-based games, while modernizing select older titles for social and mobile platforms. In fact, packaged-games have been cut in half over the past three years, while "the digital-games business now accounts for about 30% of Atari's overall revenue."
Atari probably isn't developing a new game console any time soon, but the article did mention that they're working with Discovery Bay Games to make an iPad joystick-arcade accessory. Â At time of writing, we can't find mention of this anywhere else online. Â It follows right on the heels of the iCade Arcade Cabinet, but with a smaller footprint and price tag ($30 to $70), and less retro design.
Read the first few paragraphs of the WSJ article here (or the whole thing if you subscribe). Â Watch a video interview with the author, Yukari Kane, here.
[UPDATE]
Techflash.com has given more details on the Atari iPad controller. Â It's due out in the fall, 2011. Â Full story here.
Tags: Atari, controller, iPad, news, WSJ
Categories: News
---
Leave a Reply