Bruce Glick Going for Asteroids World Record
Posted on December 12, 2012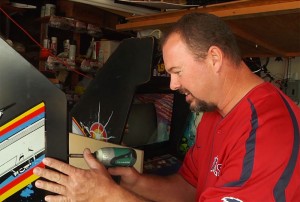 Huntington Beach, CA — Bruce Glick has recently announced his plans for public marathon sessions of Atari Asteroids, with an eye on breaking the world record.
His latest achievement was a live-webcast 36-hour straight session, where he scored 18,000,000. Glick is now gearing up for a 48-hour session, which will be hosted by local restaurant and bar, MAMA's on 39, as well as being transmitted live online.
Glick owns two Asteroids machines. He's been fine-tuning his championship machine, which has a high score save kit allowing roll-over at 10,000,000 instead of 100,000 (and obviously saving the high scores), and lightning-fast board.
The current Asteroids world record of 41,838,740 was set by John McAllister in April, 2010. Until then, Scott Safran's 1982 record of 41,336,440 was the longest-standing video game world record.
Stay tuned to AtariAsteroids.net for all your information about Glick's plans.
[UPDATE]
The time and place are official! Put February 8th, 9th, and 10th, 2013 on your calendar. Start time will be 7:00 pm on Friday night, and will go for 48 hours until 7:00 pm on Sunday night. You will be able to view it live via web cast on twitchTV.com.
More details coming soon…
Tags: Atari Asteoroids, Bruce Glick, high score, record, world record
Categories: News
---
Leave a Reply