Video Game Theater Festival in Brooklyn
Posted on June 6, 2011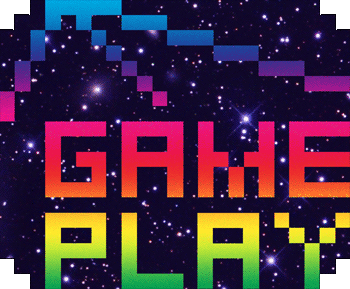 On July 7 – 31, 2011, the Game Play festival is back, bringing the ideas, themes and technology of video games into a live theatrical setting. It's being held at The Brick Theater in Williamsburg, Brooklyn, which just wrapped up its Comic Book Theater Festival in June.
There are plenty of exciting performances on this year's lineup, ranging from monologues to avant-garde video projections. Plus, there's an opening night party, chiptune dance party, installation, karaoke, and geek burlesque, all right around the corner from Barcade. Visit their website for full details and schedule.
We spoke with Chris Chappell, associate producer of Game Play, to find out more.
Atari Asteroids: The Game Play festival is now in its third year. How did it first come about, and what was the idea behind bringing video games and live theater together today?
Chris Chappell: The festival originated in the summer of 2009 with the happy confluence of three shows that happened to be going up around the same time and had developed independently: Sneaky Snake Productions was premiering a play entitled Adventure Quest based on old Sierra/LucasArts adventure games; The Fifth Wall was mounting Suspicious Package:Rx, in which the audience were effectively the performers and moved from location to location, guided by iPod-style devices; and Eddie Kim wanted to showcase some of the work he was doing with his theater students in Connecticut, which entailed "performances" in gaming environments such as Halo and Grand Theft Auto. All three used elements of gaming in radically different ways, and once we realized that, the idea of yoking them together in a festival setting was a no-brainer.
AA: Hollywood has adapted video games into blockbuster movies. They're very good at making things blow up and look really cool. But what advantages do you have in dealing with video games in an independent theater?
CC: Hollywood's approach to porting games to movies is basically to appropriate the plot elements and characters of a given game and structure a fairly conventional action film around them. This process necessarily drains away most of what made the game a game in the first place–it's just an extension of a franchise, without regard to the actual experience and unique aspects of the game. Theater, and particularly indie theater (a game-derived project on the scale of Broadway's Spider-Man would probably take a more movie-like approach) works in a totally different way–it can actually draw on gaming to play with theatrical and narrative forms, coming up with new ways of storytelling. This in part because of the intimacy afforded by live theater; in part because of indie theater's openness to experimentation; and in part the fact that the scale and nonprofit model of these projects means they don't have to aim at a broad swath of the 18-35 male demographic.
AA: How have people responded to the festival, both in terms of the audience and the work you've seen?
CC: The response has been really gratifying. The gaming aspect is obviously a hook of sorts, and we haven't been shy about using that to get the attention of folks outside the usual independent theater circles in New York. In fact, gamers in some ways seem a lot more open to what we're doing; the theater press in NYC sometimes doesn't seem to quite know what to do with these shows, while we've gotten a lot of coverage from gaming media. (In fact, our coverage in the New York Times last year came from the gaming editor, not any of the theater staff.) Of course, in some quarters there's been some understandable skepticism from folks who suspect this all just a bunch of hipsters who see this as trendy and don't really get videogames. When they come out and see what we're doing, though, I think most of them get that these are sincere and credible efforts in fusing the two forms that can yield some really innovative results. When we get people in the door who aren't part of the usual theater scene, we know we must be doing something right–and naturally, we hope that Game Play can serve as a kind of gateway drug for the other theatrical experiments we're undertaking.
Tags: art, Brooklyn, Theater, videogames, Williamsburg
Categories: Awesome, Interview, News, Tangental
---
Leave a Reply