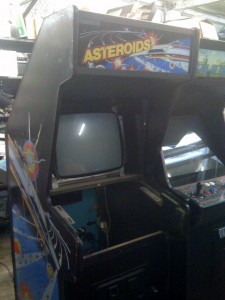 Electronics these days, I tell you — they're too complex or tiny to understand in any human way.  So there's satisfaction in ripping a gadget open and hearing what the electrical componenets truly sound like.  And when experiments turn to art, and the bleeps and static are music to the ear, this is what we call "circuit bending."
The annual Bent Festival, organized by The Tank in New York, brings together circuit bending artists from all over the world to present their creations. The festival has performances, screenings, workshops, and installations, and includes video, glitch art, and other related forms.
If you haven't seen inside an Asteroids arcade machine, it's a pretty involved series of circuits for a game that's 6 kb of programming, and another 2 kb for video and sound.  It doesn't sound like there will be one of these at the festival, but Galen Richmond has an installation using microphones and wobblevision, which hacks black and white televisions to make them play oscilloscope — Prepared Televisions for Voice: Variations on the Wobblevision.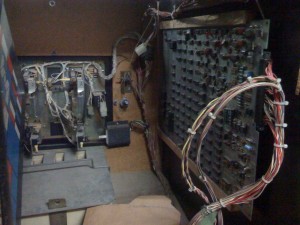 If that's your thing, and it's certainly ours, Bent can't be missed.
This year's festival will take place from June 23-25, at 319 Scholes in Brooklyn.  Get full Bent Festival details and schedule here.
follow: #bent11 @BentFestival @TheTankNYC @319scholes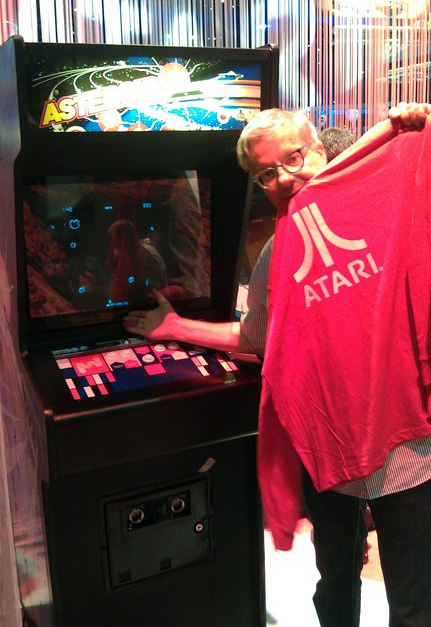 Mark Mothersbaugh, co-founder of Devo and frequent composer for Wes Anderson, cartoons, TV shows, and lots of video games, is pictured here with the Atari Asteroids machine at E3 Expo 2011.
He's also a Raymond Scott Archive Board Member, and owns a rare version of Scott's Electronium (1950s) — one of the most beautiful and awesome music sequencers you'll ever see.  If you don't know who Raymond Scott is, look him up!  It makes sense that Mothersbaugh was found hanging out by the Asteroids machine.
Holding up his new Atari shirt, Mothersbaugh said, "Atari is the best logo ever, better than the Playboy Bunny!"
Photo is from Atari's Facebook page.
[Update] – we just came across this picture of Mothersbaugh sitting at the Electronium in 1993 (read the full writeup at Synthtopia).